VOA News | Published on October 29, 2006
Colombant report - Download 339k


Listen to Colombant report

Security forces have had to intervene in several parts of the Democratic Republic of Congo, after voting for presidential and provincial elections was broken up by rioting. In the west of the country, there was low turnout initially because of heavy rains.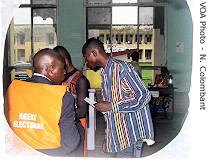 Voting in Congo

Election officials tried to mop away flooding inside polling centers, as heavy rains that lasted until midday reduced the number of voters.
One of the first to vote, at six in the morning, Blaise Kayombo, had no lines to deal with.
He says he is thankful for this election, after 16 years of political transition, started during a dictatorship, and broken up several times by war, that he can finally choose a president.
He says, even if the election is not perfect, it is about time Congolese decide for themselves who their leader should be.
His choice was between the military-installed son of a former coup leader, transitional President Joseph Kabila, and a former Uganda-backed rebel, Jean-Pierre Bemba.
The first of the two to vote was Mr. Kabila, but he made no comment to reporters.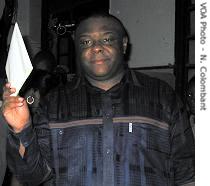 Jean-Pierre Bemba facing uphill battle in Congo elections

Several hours later, Bemba arrived at a polling center nearby, with his own supporters, as well as with many armed militias. All he said was that he was feeling very well.

A failed first-round candidate now supporting Bemba, Oscar Kashala, accused Mr. Kabila's supporters of buying off votes in the central mining city of Tshikapa.

"As I am talking to you, I was with Tshikapa on the line. There are a number of people who have money in their pockets, who are there because they want to buy the votes for the people," he said. "This is not acceptable at all. It is not acceptable in Washington, it is not acceptable in Paris, London. It should not be acceptable here."

There was rioting there, as well as in the northern town of Bumba, after an election official was accused of stuffing pre-marked ballots in favor of Mr. Kabila. Police intervened in both cases.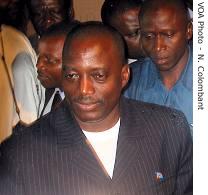 Joseph Kabila during voting
Kabila campaign officials were not available for comment.
The 35-year-old got 45 percent of the vote in the first round, mostly in the east, and built alliances with the third- and fourth-place finishers, after having failed to win outright.
Congolese journalists and diplomats said Mr. Bemba's cause was not being helped by the heavy rains and low turnout in the west, where he got most of his votes, with an overall score of 20 percent, during the first round.
Deadly clashes between rival armed groups marked the release of first-round results and the final hours of campaigning for the second round.
Nearly 20,000 international peacekeepers are deployed across the huge mineral-rich Congo, as well as 40,000 election observers.