Monuc | Published on November 10, 2006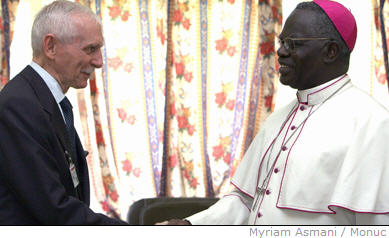 William Swing, the UN Special Representative for the Secretary General in the DRC, met Archbishop Monsengwo, the president of the National Episcopal Conference of Congo (CENCO), on Thursday November 9, 2006.

After the meeting Archbishop Monsengwo gave his impressions on the DRC political situation, in an interview granted to MONUC's video unit.

INTERVIEW

Archbishop Monsengwo, can you speak to us about your meeting with Mr. Swing?

We met Mr. Swing as we meet other persons involved in the electoral process. We regularly meet to talk on the evolution of the process and the problems that could possibly arise.
You know that the position of the Episcopal Conference with regard to this process at this point is that we want "peace through the ballot boxes and transparency with regard to the ballot box results".

This enables us to discuss with Mr. Swing, as well as others, on the outcome of the elections, on what they think, the rate of participation, the results which gradually are being announced, and on the meetings to harmonise the results which are done with the great willingness of everyone.

These meetings are to bring peace and then at the same time these regular meetings between the ambassador Swing and the representatives of the two camps aim to harmonize their point of view.

We spoke on all of these issues and we talked about what most concerns us, which is the success of the process because the international community, the Congolese people and everyone involved have invested so much in this and the democratic process in general. To quote an African proverb, it would be a pity if 'the canoe capsizes before reaching the beach'.

Our wish is therefore that everyone can succeed in making the elections a success, as everyone is part of the package. If Congo enters democracy on the right footing, it is because we have reached this first step with everyone working together.

But if we miss this opportunity then this will complicate matters in the future, therefore our view is that everyone does their bit so that the will of the people who put their votes in the ballots is really what will be finally announced, in all transparency.

Taking into account the great responsibility of the church in the DRC, what is your message for the Congolese people?

We always send messages, and this year we sent several of them. The latest to date is of October 5, 2006, where we precisely insisted that we condemn violence absolutely and we ask that nobody returns this country to war, because it is time to begin the priority tasks in the development of the nation and the development of our people in solidarity.