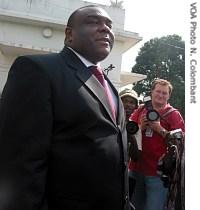 Jean-Pierre Bemba

Democratic Republic of Congo (DRC) Vice President Jean-Pierre Bemba has filed a legal challenge to the results of last month's presidential runoff election won by incumbent President Joseph Kabila.

About 200 Bemba supporters gathered outside the Supreme Court in Kinshasa Saturday, as his representatives submitted the formal objection. Bemba announced Thursday that he intends to use all legal channels to challenge the result, which he says do not reflect the will of the people.

A representative of Bemba's told reporters his side believes many votes were cast illegally. Their main claim is that more than 1 million people voted outside their home constituencies.

Congo's election commission on Wednesday declared Mr. Kabila the winner of the second round, with 58 percent of the vote. International observers say the runoff was largely free and fair. However, Bemba supporters say there was systematic cheating in the vote count.

Police and international peacekeepers are patrolling the capital in an effort to prevent clashes between supporters of the two candidates.

Supporters of both men fought gunbattles in the streets of Kinshasa last week, killing at least four people.

This year's election was intended to restore stability to the DRC, following six years of civil war that left about 4 million people dead, mostly through disease and hunger.

The Congolese Supreme Court still must verify the election results.