VOA News | Published on March 22, 2007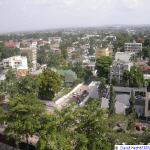 Gunbattles between government troops and fighters loyal to former vice president Jean-Pierre Bemba are raging in the streets of the Democratic Republic of Congo's (DRC) capital, Kinshasa.
A VOA reporter at the scene reports the fighting began earlier Thursday near Bemba's home and spread through the surrounding neighborhood.  He says the sides are using heavy arms fire and rocket propelled grenades.
The reporter says a hospital near the fighting has been treating wounded, but officials offered no information on the number of casualties. 
The former vice president's home had been the scene of a two-day standoff between the military and soldiers loyal to the former rebel leader.
The government has ordered guards loyal to Bemba to return to regular army service.  Bemba and his guards opposed the order, saying a team of 12 policemen assigned to protect him was not sufficient.
There has been no indication U.N. peacekeepers deployed to the area on Tuesday have been involved in today's fighting.
Bemba lost Congo's presidential election last year to the incumbent, Joseph Kabila.  Bemba was a rebel leader during the DRC's civil war, which killed some 4 million people, mostly through disease and hunger.
Some information for this report was provided by AFP, AP and Reuters.