VOA News | Published on August 29, 2006
Bavier report - Download 226k


Listen to Bavier report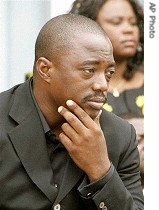 Joseph Kabila

Senior representatives for Congo's President Joseph Kabila and Vice-President Jean-Pierre Bemba have met in Kinshasa to set up a commission to investigate post-election violence earlier this month. The two men will face off in an October presidential runoff election, raising fears the polls could lead to more deaths. Joe Bavier has this report for VOA with additional reporting by Eddy Isango in Kinshasa.
Fighting in Kinshasa, the capital of the Democratic Republic of Congo, began just as results from the country's first-round presidential election were due to be announced earlier this month. Street battles raged for three days between President Joseph Kabila's guard and Vice-President Jean-Pierre Bemba's personal security detail, claiming at least 20 lives.
Deputy spokesman for Congo's U.N. peacekeeping mission, Jean-Tobie Okala, says the panel, which was set up with the participation of both Kabila and Bemba supporters, is expected to shed some light on the events. "Both parties agreed to create, to set up, two sub commissions. The first one will be in charge of establishing the facts, what happened exactly, why did this happen, how can we prevent that such events occur again."