VOA News | Published on October 23, 2006
Colombant report - Download 332k


Listen to Colombant report

European rapid reaction force commanders in the Democratic Republic of Congo say they believe the second-round presidential run-off Sunday will have a much more peaceful outcome than the first round, when results were followed by deadly clashes in the capital.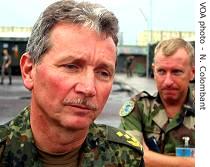 General Karl Heinz Viereck

The commander of the force, known as EUFOR, General Karl Heinz Viereck, says his forces, currently numbering about 800 in Kinshasa, and 1,200 positioned in nearby Gabon, are better prepared for any major violence.

"I am very positive, insofar as that we do not [make] the same failures again like we did the last time here," said General Viereck. "So, I hope everybody got the experience from last time, and [will] take that into account when we go for the second round of the election. I would not like to speculate what we are going to do. What I will say is, we do [have] the required operation, but after analyzing the situation very carefully."
Violence Has Marked Campaign Period in the DRC
Personal security guards for the top finishers President Joseph Kabila and Vice-President Jean-Pierre Bemba clashed in August in Kinshasa, when first round results came out, leaving nearly two-dozen people dead.
EUFOR was criticized by Congolese media for not doing enough to help the overstretched U.N peacekeeping force.
But General Viereck disputed speculation that EUFOR's role was merely to protect, and eventually evacuate Europeans.
"We are not here for evacuation," he said. "We are here to support the election campaign, and everything points to that we get a successful election. We do our utmost to assure the people here that they have a good chance to go for that date and really get their voice heard. That is what we are here for."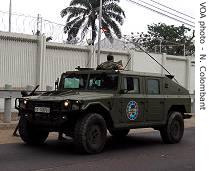 EUFOR troops patrolling Kinshasa
EUFOR was also criticized after a drone it uses for security surveillance recently crashed, killing two people.
The force's tactical commander General Christian Damay said the crash was an accident.
"We took all the necessary measures to correct this," said General Damay. "Now, the drones are flying. Yesterday, we had a flight with all the authorization from the Congolese authorities. So, it is okay now for the drones."
Campaigning for Sunday's vote has been marked by very few appearances from the two candidates, and recurrent skirmishes between rival supporters.
Bemba, a former rebel leader who got 20 percent in the first round, is popular among many people in Kinshasa and other western areas . These include many who have boycotted the election process.
Mr. Kabila first became president when his father, former coup leader Laurent Desire Kabila was assassinated. During the first round, he won almost all votes in the east. Since then, he has allied himself with the western-based third and fourth place first-round finishers.
The mineral-rich Congo has had a brutal history, marked by the plundering of its resources, benefiting corrupt leaders and foreign businessmen, all the while accentuating local social hardship.