VOA News | Published on October 24, 2006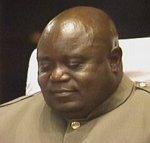 Laurent Kabila

As many as 14 prisoners sentenced in the 2001 assassination of former Congolese President Laurent Kabila have escaped from a Kinshasa jail.

Prison officials discovered the prisoners were missing this Tuesday morning. One jail official said there were no signs of a breakout, and authorities are investigating how the inmates escaped.

The prisoners were among at least 30 people convicted in the assassination. Many were sentenced to death.

The escapes come just days before President Joseph Kabila, the son of the former president, faces a run-off election against former rebel leader Jean-Pierre Bemba. The vote is scheduled for Sunday.

Joseph Kabila became president after the assassination of his father.

Some information for this report provided by AP, AFP and Reuters.