VOA News | Published on October 31, 2006
Colombant report - Download 353K


Listen to Colombant report

Election officials in the Democratic Republic of Congo have denounced the announcement of speculative results, following Sunday's decisive second-round presidential election. They have called for patience as results are slowly tabulated in the race between Transitional President Joseph Kabila and former rebel Jean-Pierre Bemba.
An election official translated the day's official communiqué into English.
He said, "The media should not raise the confusion to occasion violence and also create the atmosphere of tensions, [which are] useless or dangerous, of which Congolese people do not need anymore."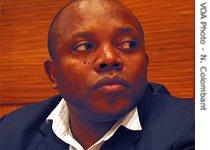 Apollinaire Malu Malu

Election commission head Apollinaire Malu Malu said some Internet hackers were sending e-mails with his name and false results, and that these were being widely circulated.

He said such information could threaten the stability of the vast mineral-rich Congo. He also pointed out voting was not even finished.

A re-vote is underway in the northwestern town of Bumba after riots there on election day, following allegations of pre-stuffed ballots in favor of Mr. Kabila.

Malu Malu's translator explained voting would continue Wednesday in and around the eastern town of Fataki. Rioting there followed the killing of two election officials by a soldier.

"Tomorrow, the centers should be opened to allow people in the surrounding areas to cast their ballots. But the voting by dispensing will not be allowed to avoid people who might double vote," he said.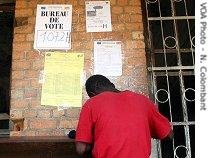 Citizens are compiling their own results, Tuesday, Oct. 31, 2006
Results elsewhere have been posted at individual polling stations, leading to the widespread speculation that the race may be tight.
Votes now need to be tabulated at national compilation centers, a lengthy process given that some polling stations are in very isolated areas.
A political analyst Mbwebwe Kabamba says many Congolese still have suspicions about the transparency of vote counting.
He said, "These compilation centers, we do not know what exactly is going on in them. There were many criticisms about the first round and what happened. There are people who said having the results from different offices in comparison with what happened at the compilation center, there is a large gap."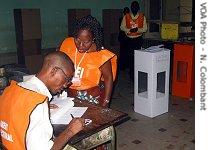 Elections poll workers in DRC, Tuesday, Oct. 31, 2006
Aware of such criticism, election officials said they have made improvements to secure the data entry of results.
A close advisor to Mr. Kabila said he was confident, but he denounced a campaign of intimidation from the rival camp. Meanwhile, Bemba's team again denounced what it said was more proof of vote tampering on election day.
International observers who have spoken to media said they thought polling went well, even if turnout was lower than during the first round. Mr. Kabila got 45 percent in the initial July vote and built impressive alliances going into the second round, but still faced a strong challenge from the former Uganda-backed rebel, who is popular among the young and poor in the west and center.