VOA News | Published on March 25, 2007
Schwarz report - Download 314k


Listen to Schwarz report

Residents of Kinshasa, the capital of the Democratic Republic of Congo, are relieved but bitter, as calm has returned after two days of brutal fighting between government forces and the guard of opposition leader and former vice-president Jean-Pierre Bemba. Dozens are reported dead, and the death toll is expected to rise as more information becomes available. Naomi Schwarz has more on the story from VOA's regional bureau in Dakar.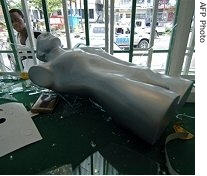 A man looks into a looted shop window, 24 March 2007, in Kinshasa, capital of the Democratic Republic of Congo

Jean-Tobie Okala, the deputy spokesman for the U.N.'s military mission in Congo, known by the French abbreviation MONUC, said he went outside for the first time this morning, after more than 48-hours of fighting. "The situation in the Congolese capital is calm. I went to the downtown. I can say that there are a lot of damages but social and economic activity are resuming," he said.

Okala said MONUC forces spent the past few days protecting and evacuating civilians and attempting to mediate between the government and Bemba.

The government issued a warrant for Bemba's arrest Friday, accusing him of treason and calling the clashes a rebellion. He has taken refuge in the South African Embassy in Kinshasa.

Local journalist Eddie Issango says many of Bemba's guard have fled across the river to neighboring Congo-Brazzaville or have turned themselves and their weapons into the U.N.

MONUC spokesman Okala says the government must once again look for ways to find solutions for the many challenges facing the DRC after decades of brutal war. "They have to secure the country. They have to reform security services. They have to promote social justice, promote women. So there is no time to waste," he said.

But Michel Nourredine Kassa, head of Kinshasa-based Leadership Training Initiative, said there remains a lot of anger over the events of the past few days. "There is a sense of relief, I guess, but beyond this sense of relief what I feel is a sense of extreme bitterness. Bitterness at how futile this chapter of this country's political life has been. Futile fighting when there were a thousand other options to settle this dispute than using violence," he said.

But despite the violence of the past days, all too familiar to Congolese who survived a civil war that left more than four million dead, Kassa says a sense of optimism remains. Mr Kassa added, "They are still hopeful because they know that they have voted and they know that their vote counts. It will never be like before."

Last year, the DRC held democratic elections that were widely hailed as an important step toward peace for the beleaguered nation. President Joseph Kabila won the vote, but the election was marred by violent clashes.

Kassa says looks he forward to a time of peace in the DRC, when the National Assembly will become a place for healthy - and peaceful discussion - by members of the government and a robust opposition.