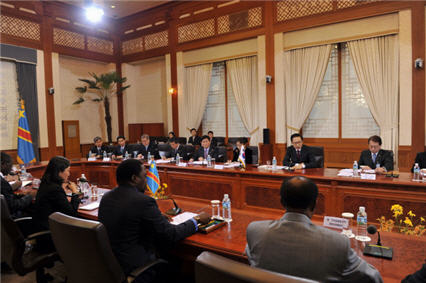 Presidents Joseph Kabila and Lee Myung-bak at Congo-Korea bilateral summit
Leaders of the Democratic Republic of Congo and South Korea held a bilateral summit on Monday to boost ties between the two countries.
President Joseph Kabila is on a four-day state visit to South Korea at the invitation of President Lee Myung-bak.
The bilateral summit focused on how the two countries can cooperate on energy, natural resources, and infrastructure projects. The meeting took place at the Cheong Wa Dae (Bleu House), the Office and Residence of President Lee.
President Lee welcomed his guest by saying that Kabila's leadership is stabilizing the DRC and praising his development projects.
South Korea provided US$ 100 million in development aid to the DRC in 2008 and says it plans to double that amount by 2012. The South Korean healthcare aid agency said on Monday it will provide 15 mobile clinics vehicles to the DRC.
During his stay, President Kabila will also meet with South Korean business leaders, receive an honorary doctorate from the prestigious Hanyang University, and tour southern industrial cities.
South Korea and DR Congo first established diplomatic ties in 1963. Kabila's trip marks his second following a previous visit in 2005.