VOA News | Published on January 15, 2008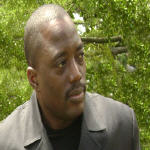 Democratic Republic of Congo President Joseph Kabila has arrived in the eastern town of Goma to attend a peace conference on the conflict in the Kivu provinces.
The president issued a statement Tuesday saying his presence shows the importance he attaches to resolving the conflict.
The new head of the U.N. peacekeeping mission to the DRC, Alan Doss, is also at the meetings.
The conference got off to a rough start last week with a larger-than-expected turnout and the delegation of rebel General Laurent Nkunda threatening to walk out. But organizers say the meetings are now on track.
So far, Nkunda, who leads the main rebel group in North Kivu province, has not attended the conference. The Reuters news agency today quotes him as saying: "If I am invited, I will go."
On Friday, U.S. Secretary of State Condoleezza Rice issued a statement of support for the conference, saying the U.S. believes it represents the best path toward achieving lasting peace in the volatile eastern DRC.
Congo's civil war ended in 2003 but various rebel groups and militias have remained active in North and South Kivu provinces.
Nkunda began his insurgency in 2004, saying local Tutsis need protection from Rwandan Hutu rebels camped out in the area. Government forces and Nkunda's men resumed fighting last August, after Nkunda abandoned a peace accord and pulled his fighters out of the national army.
The clashes in North Kivu have displaced an estimated 800,000 people from their homes.